Fifty final year Maritime Business students of Plymouth University met members of PYNDA at the offices of Squire Sanders for an evening social and networking opportunity. The event was planned as part of a Field Trip to the City and the ports of London.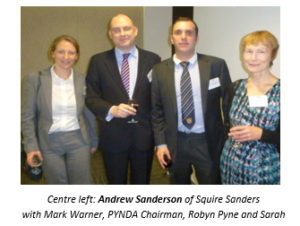 The evening event was hosted by Andrew Sanderson and colleagues from Squire Sanders. Andrew a graduate of Plymouth University 's Maritime Business programmes works with Squire Sanders as a barrister with specialisation in international trade disputes and transport.
Introduced by the Chairman of PYNDA, Mark Warner, Andrew spoke of his pleasure at meeting present day students. He recommended that students join one of Plymouth University's oldest Alumni associations, PYNDA.
After enthusing about the business of shipping and international trade, he reflected on how his time at Plymouth had formed a strong foundation for the development of his career.
Further pictures of the PYNDA Networking evening are posted in the Gallery, PYNDA's Website: www.pynda.com
Following the successful evening, students spent a further two days in London, during which time they undertook industrial visits to the headquarters of the International Maritime Organisation (IMO), Lloyd's Register, ICAP, Tilbury Port and London Gateway.
In addition students visited the replica of Sir Francis Drake's 'Golden Hind' * berthed at Pickford's Wharf on the South Bank and took a 'Sunset Flight' on the London Eye.
The International Shipping and Logistics Group of Plymouth University is grateful for the support provided by all the above organisations.
*For those not aware the link of Plymouth University with the Golden Hind is very real. The Plymouth University Coat of Arms shows a pelican and golden hind supporting the shield, the original and later name of the ship on which Sir Francis Drake completed the first circumnavigation of the world.