Inaugural Social for PYNDA Rotterdam 23rd of May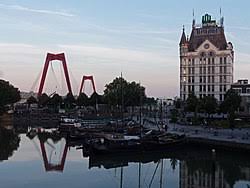 PYNDA is thrilled to announce the upcoming "Evening Drinks at Plymouth Harbour" in Rotterdam(!) for all its ARA area-based members. This 23rd of May, meet with fellow professionals who share Plymouth University in their professional curricula and have a passion for the shipping industry. This time, the meeting point will not be the Plymouth Barbican but the also iconic Rotterdam Oude Haven (Metro: Blaak). The decommissioned light-house boat, Vessel 11, will offer a great atmosphere with cold drinks and typical Dutch snacks to mingle and enjoy an evening amongst friends. If weather allows, we will meet at the weather deck, otherwise the belly bar will comfortably hosts.
Location: Vessel 11 (Wijnhaven 101, 3011 WN Rotterdam)
Date: 23rd of May
Time: 1800
The event is hosted by Bart Bauza and he is looking forward to see you all at the event.