Among the many recent changes at Plymouth University has been the development of the Plymouth Graduate School of Managament (PGSM) one of five schools associated with the Faculty of Business.
The International Shipping and Logistics Group as part of the PGSM and Plymouth Business School is one of three subject discipline groups to re-locate to the newly refurbished 'Mast House', located on a waterfront site overlooking Sutton Harbour.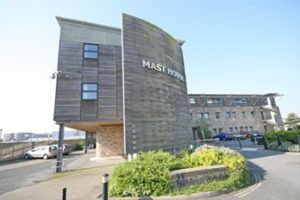 The move to Mast House helps satisfy the demand for additional space for the growing interest in business and managament education at Plymouth. The facilities will enhance Plymouth University's postgraduate education, research offer and its ability to give support to business, through a new 'Futures Enterprise Centre'.
The staff of the IS&L Group, will develop their interests in postgraduate courses and research in International Shipping and Logistics and at the same time maintain their commitment to the successful cohort of 'Maritime Business' undergraduate courses which were orignially established almost 50 years ago!
The importance of shipping and international logistics is recognised in the building by a colourful 'wall frieze' of a four high stack of international containers which part encircles the Mast House Café!! Further items of maritime interest for display will eventually include a 'time line' of Suuton Harbour and a Case Study concerned with Containerisation.
The use of large scale wall photographs in the building relate to Plymouth University's international connections to important trading cities including Shanghai, Boston and Colombo. They identify the international nature of business and management.