Mutiny – a 21st Century Recreation Speaking Tour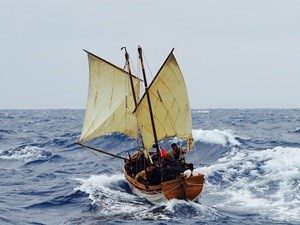 A former successful Ocean Science student at Plymouth 'Conrad Humphreys' was sailing master / professional skipper of 'Bounty's End' a replica of the longboat in which Captain Bligh was cast adrift!
Conrad is commencing a UK tour of his presentation at Plymouth on Wednesday March 29th, followed by two presentations in London – see below.
29th March 2017: Plymouth University, Sherwell Building, Plymouth
03rd April 2017: Royal Geographical Society, Kensington, London
17th May 2017: Clothworkers Hall, City of London
24th May 2017: Mount Kelly, Tavistock
Conrad is an Honorary Doc of Plymouth University – an honour bestowed on his following his participation in the 'Vendee Grand 2004/5' round the world yacht race.
A link to Conrad Humphrey's business web site is http://conradhumphreys.com/   Attached is a photo of Bounty's End in which the voyage of re-enactment  was undertaken.