Seafarer memorial on Plymouth Hoe serves more than one purpose
The Watchkeeper, a memorial to merchant navy seafarers who died in conflict, has been unveiled in Plymouth as a fitting tribute to those who made the ultimate sacrifice and continue to do so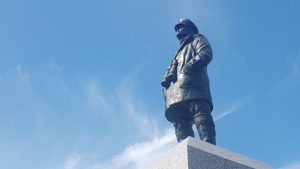 The Watchkeeper looking out into the Atlantic from Plymouth Hoe.
THE role played by merchant navy seafarers and fishermen during times of conflict is often overlooked. There are plenty of monuments to members of the armed forces who lost their lives in conflict but few to the humble commercial seafarer.
At one level it's understandable: the merchant navy doesn't do enough to trumpet its achievements. But at another level it's regrettable: if merchant navy and fishing fleet casualties of war were as well known as naval casualties, the general public might think a little more carefully about where their everyday coffee and beans come from.
September 3 marked 80 years since the SS Athenia, a transatlantic passenger liner running between Great Britain and Canada, was torpedoed and sunk. Of the 1,400 people on board, 98 passengers and 19 members of the crew were killed. The sinking was kept under wraps until after the war, which meant the families of the crew had no memorial to their loved ones. It is estimated that more than 35,000 merchant seafaring men and women were lost at sea during the Second World War but have no national memorial.
A memorial to merchant navy seafarers unveiled on Plymouth Hoe this week by the Princess Royal goes some way to flagging up the sacrifice these seafarers have made. The sculpture, the Watchkeeper, stands in good company: alongside memorials to Sir Francis Drake who circumnavigated the world between 1577 and 1580, the Armada Memorial commemorating the defeat of the Spanish Armada in 1588, and the Plymouth Naval Memorial remembering the sacrifices of 1914-1918 and 1939-1945.
There is, of course, a link between ignorance of the role played by the merchant navy in war and the role it continues to play in times of peace. In her brief address at the unveiling of the Watchkeeper, Princess Anne lamented the "slight lack of awareness" of what seafarers do.
That's rather diplomatic. Seafarers serving on the UK-flagged Stena Impero are still being held as pawns in a political spat, while others have suffered in the Gulf of Aden, off Somalia, and in the Gulf of Guinea. Over the past decade, the IMB Piracy Reporting Centre has delivered a monthly listing of attacks on merchant ships. The totals have slipped out of the headlines — thanks partly to the help of the presence of several naval vessels in dangerous waters – so there's no chance of Hollywood making a sequel to Captain Phillips.
Nevertheless, the Watchkeeper, looking out into the Atlantic from Plymouth Hoe, serves two purposes. The statue should act as a focus for those wishing to remember the merchant navy and fishermen who made the ultimate sacrifice, and it should serve as a wake-up call to a British nation that has long forgotten the role seafarers play in the nation's economy. "Lest we forget" has more than one meaning.